.
.



1 Page PDF - MUST SEE!!!

.
.
El Yanga - National Mexican hero - 2 pg. PDF)
Clink the above link for the full 2-page PDF regarding El Yanga - "National Hero of Mexico" and others including map where other Olmec (Old Mexico) stone heads were found spread over Mexico (Amexem) into the Yucatan Penninsula. On the "What To Study" page are more Olmec Head pictures.
.




In Regards To 'Nationalizing' -- 2015
.

posted 11/13/15
Are You Busy About Enforcing the Law or 'Color-of-Law?
'Color of Law" - The Appearance or semblance, without the substance, of legal right. State v. Brechler, 185 Wis. 499, 202 N.d144, 148. Source: Black's Law Dictionary, pg 331.

We gave that definition because we realize that many may not be aware that there is such a thing as "color of law". That would be what you are learning in any law classes today. Also many may think Black's Law dictionary is indicative of a so-called 'black' person, because the 'name' is Henry Campbell Black. When you look up 'color-of-law' you will also find color of authority, color of Office and the definition of 'Color' itself, which is: 'an appearance, semblance, or simulacrum, as distinguished from that which is real'. Now you know why we never were colored people. In the 101's it tells you that color means something that is stained, varnished or dyed, which means it hides or covers over the true substance of the thing itself.

Everything that is Legal is not necessarily lawful, HOWEVER, everything lawful is Legal.

.


.
.



"Moors, Temples and Membership"
.
.

.
.

.



.
American:

n.

an Aboriginal or one of the various copper-colored natives found on the American Continent by the Europeans; the original application of the name.

—Websters 1828 American Dictionary of the English language and 1936.

— Websters unabriged 20th century dictionary.
Wow, we really do need to have schools that teach our own, don't we? As this information is another game changer.
.
.
.
.
.
.
.
.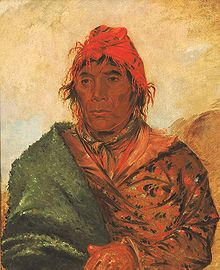 A Later King Philip!!! -1800 (right) was Ee Mat La of the Seminole Moors Family, a war Chief from the Second Seminole War.
Check out Micanopy, (right) known as Micco-Nuppe, Michenopah, Miccanopa, Moc-an-opa and Sint-Chakkee, which means 'pond frequenter', as he must have spent a lot of time at the pond, probably meditating, paticularly on the insurgence of the colonists, who wanted to suppress the aboriginal and indigenous people because CLEARLY, they (colonist) were disrespectful of nature, of life, of humanity. What can you expect from uncivilized barbaric slaves, murderers and thieves. This is the second of wars for the natural people of the land against them. Micanopy was a war leader in the Second Seminole Wars - Check out his hair, as they are locks. Hair like lambs wool, skin like brass - copper.

Asiatic American Connection To The Continental Americas" - PDF


.
Click Here to Order Books via Paypal


.
"When one studies issues involving Nationality & Birthrights, one begins to understand that Laws of

C

ivilizations

come from the natural people of Nations.

And if you are not part of a Nation you don't come under

National or International Law. Therefore, you are not recognized by the Nations of the Earth; because Law deals with the interchanges made between natural people across the planet, and has generally, always been

that way.

And the

(Nations) have

governmental principles that are universal in their character.

These international principles are not unique to us necessarily, they are universal in their character.

So when one deals with other

N

ations

,

there are certain

universal and

fundamental civil principles that are expected from you, when others communicate with you.

And if you don't display a basic knowledge of such rules of order, then you are in violation of

Divine Law, (from whence the principles of

government law

is derived). One may be deemed as being

outside of

the L

aw or considered to be what is called or referred to as an

"

outlaw

". Such a circumstance may be assumed by

the natural citizens of a nation and government; and by virtue of such conditons or status, may do whatever they want to you and get away with it."